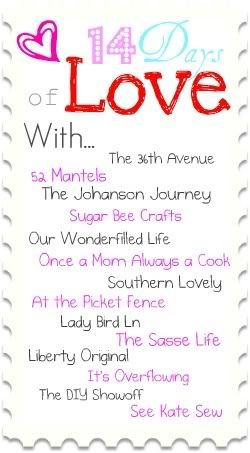 Today is day 7 of 14 days of Love, which features a different blog with a different Valentine tutorial each day!! Today's Valentine tutorial can be found over at Southern Lovely!
Lindsay has put together a tutorial for making an adorable heart shirt, perfect for your little girl for Valentines Day!
Head on over to Southern Lovely to learn how to make one!
Next up for tomorrow, At The Picket Fence!!
You won't want to miss it!
For more info about 14 days of Love, visit Ashley at Cherished Bliss. She has ALL the details!!