Have you heard of Clipix? It's new!! Do you always find tons of things online every single day that you want to save, but no way to keep them together and organize them? Try Clipix!! It solves the problem!
clipix
It's absolutely free, and such an awesome tool that literally changes the way we organize our lives online!! Use Clipix! It keeps everything you want to save online and come back to later.
So how does it work?? Here's how! All you have to do is drag a bookmark called the "Clip" button to your bookmarks bar. Then, whenever you see anything you want to save online and come back to, you simply click the "Clip" button. Everything that you clip will be saved to customized clipboards on clipix that you organize and control!!
I absolutely love to look for recipes online. But it is so hard to keep track of them and save them for later, when I plan to use them. Now, with Clipix, I can have my own clipboard just for recipes. Then, anytime I find a recipe I want to try, I just clip it to my recipes clipboard! Then I can access my clipboard anytime, from anywhere, especially with the Clipix Iphone app! WIth the Clipix Iphone app, you can take all of your clipboards with you when you're on the go. You can also add new clips by taking photos of things you see! That's awesome!!
Printables are another thing that I love to look for online.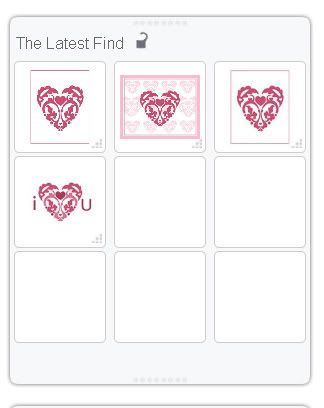 Here's one of my boards that I already have set up! With Valentines Day coming up, I have been able to save some of my favorite heart printables to my clipboard.
I can't wait to start a clipboard for home decorating ideas! Since just moving into our new home only 6 months ago, I am constantly on the search for great ideas for painting and wall decor. I can even set up different clipboards for "painting ideas" and "wall decor"! Or, I can just have a general "home decorating" clipboard! The possibilities are endless! You can organize your findings however you want! You can create customized clipboards, as many as you like, for any purpose! Also, rearrange them however you want!That's what's great about Clipix! You can make clipboards for anything! It might be articles you want to read or come back to later, gift ideas, gadgets you're thinking about buying, or recipes you can't wait to try! The list is literally endless!!
Clipix also gives you the option to keep your clips private, or you can share them with your friends, or even the whole clipix community! Clipix allows you to maintain customized privacy settings so you can organize your online life and share it only with people you want to grant access to your clipboards. You can also reclip other clips, as well as share them on Facebook, Twitter, etc... Found a great recipe that you want to share with all of your Facebook friends? It's possible through Clipix!!
It's so easy to use also! The Clipix website shows you exactly how to install the "clip" button onto your bookmarks bar. It's basically just a drag and drop! It's that easy!
Then when you get to a website with something you find that you want to save, you just click on your "clip" button, which will bring up this...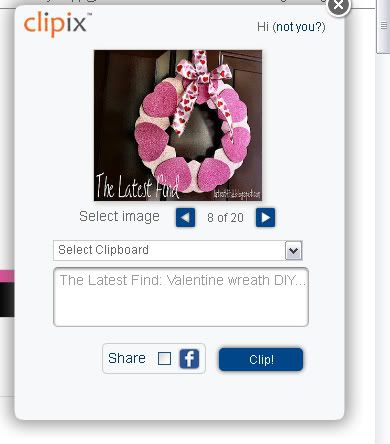 That's where you will clip the idea or item to your clipboard! It lets you choose which board you wish to clip it to. That is also where you have the option to create a new clipboard at any time, inside the "Clip" panel... because sometimes you'll see something worth saving that makes you think of a whole new category! You will constantly find new uses for it!
There are also syncboards! These allow you to clip corraboratively with your freiends and family. Whenever anyone adds a clip to the syncboard, everyone else you collaborate with will see it in real-time! Another great feature of Clipix is the Multiboards. You can group multiple clipboards by category to stay better organized.
Once you start using it, you'll be addicted too!
Save all of your vacation ideas, dream home ideas, funny video clips, articles, pretty much anything! To show you how useful Clipix is, here's a video...
So give it a try! You'll love how easy it is, and how convenient since you can take it with you on your iphone! I definitely recommend signing up today! Just curious as to what you will use clipix for... Let me know by leaving a comment on this post! Head on over to Clipix to check it out and sign up!!
Promoted Post