We're very excited today! The Latest Find is bringing you Sunday's Latest (Edition #1), your online "Sunday Paper" that skips to the good stuff!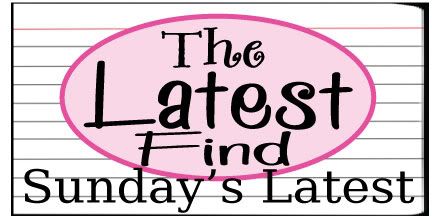 First up, the sale ads!! Here are the links a few of our favorite stores weekly sale ads. Just click on the link, type in your zip code, choose your local store, and there they are!

Office Max bag sale, save 20% on anything that fits in the bag in store, save 20% off your purchase online with code BIGLEAP. Valid through 3/3/12.
25% entire online purchase, today only!! Use code ONSPRING.
Old Navy Price Lock Jeans sale, buy Old Navy famous jeans, and lock in the sale price of $12 for kids/baby famous jeans and $19 for adults famous jeans through 5/31/12.
Pacific Sunwear
30% off already marked down items, ends today!!
Best Buy
Apple Ipad 2 is on sale!! $50 off on Best Buy's website!!
Buy Online, Pickup in Your Local Best Buy® Store. Same day pickup guarantee.

Breakfast: Giant Cinnamon Rolls by The Farm Girl
Lunch/Dinner:
Fetuccini with Meatballs in Tomato Sauce by
Fuss Free Cooking
Dessert: Grasshopper Brownies using Thin Mints by Bakeaholic Mama

Raising Readers (parenting) at Kinderpindent
10 Common Mistakes of Party Planning
at Paper Style

It IS Sunday, be inspired by the following links!!
CSAHM
Scripture Sunday at Ramblings of a Christian Mom...link up your verses!
Have to miss a Sunday at church? Check out these two websites that offer their church services online, LIVE! I have been to both of these personally, and they're amazing!
Journey Church in Raleigh, NC
Barefoot Church in Myrtle Beach, SC
(find some great online sermon archives and podcasts at them as well )
That's all for Edition #1!!
Tune in next Sunday for Sunday's Latest...edition #2!! And stay tuned all this week for more latest finds!!