Welcome to the 2nd edition of Sunday's Latest, your online "Sunday Paper" that skips to the good stuff!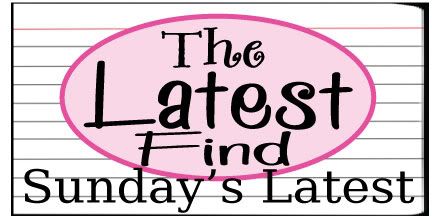 So excited to have our crafting contributor from Pincushion Creations on board for Sunday's Latest, starting today! But first up, the sale ads!! Here are the links a few of our favorite stores weekly sale ads. Just click on the link, type in your zip code, choose your local store, and there they are!

Baby Gap
Today only (3/4), baby sleepwear at Baby Gap is on sale for $18 (almost a $7 savings)!! A great time to stock up! Head over to Baby Gap online to check it out.
Snapfish
Until March 12, Snapfish is offering free shipping plus 20% off on their home decor with the code FSDECOR. Check it out with the link below...
Free shipping plus20% off Home Decor CODE: FSDECOR Exp:3/12/12
Until March 31, Snapfish is also offering 30% off of your purchase with the code FSMAR30. Check this out using the link below!
Free Shipping on $30 purchase Exp: 3/31/12: Coupon: FSMAR30
Keurig is offering $6 off your purchase of 4 k-cup boxes! Also a good time to stock up! Use the code LEAPDAY6. This ends today, so act fast! Free standard shipping on purchases of $45 or more! And be sure to check out the new Keurig Vue system that's coming soon!
Bath & Body Works
The 2 for $20 20 oz candles deal going on right now ends today, in stores and online! Choose from fragrances such as Wild Strawberry, Pineapple Mango, and Market Peach, all perfect for spring and summer! Also, you can get $1 shipping with any online purchase of $25 or more using the code ENDS25. Limited time only!

Breakfast: Breakfast Pizza from Food Network, recipe by Giada De Laurentiis
Lunch/Dinner: Cajun Chicken Pasta from Ziplist, originally from Skinnytaste
Dessert: Brownie Cheesecake from Woman's Day
Other recipe finds to try...
Steak Bit Lasagna over at Successful Together
Grasshopper Mint Chocolate Cake Mix Cookies over at Six Sisters' Stuff


This week's craft tutorial is for a super-cute Easy Chic Tote over at Pincushion Creations! A big thank-you to Katie from Pincushion Creations...our craft contributor!
Stay tuned each week for more of her awesome crafting/sewing tutorials, and be sure to follower her over at her site! She has some amazing new projects coming up!!

"But eating healthy is so expensive" from I Wanna Cookie

It IS Sunday, be inspired by the following links!!
A Reverie Interrupted over at To Show Them Jesus
CSAHM
Free printable from The Latest Find!
click the pic to download the 10x8

...
Scripture Sunday at Ramblings of a Christian Mom...link up your verses!
Have to miss a Sunday at church? Check out these two websites that offer their church services online, LIVE! I have been to both of these personally, and they're amazing!
Journey Church in Raleigh, NC
Barefoot Church in Myrtle Beach, SC
(find some great online sermon archives and podcasts at them as well )
That's all for Edition #2!!
Tune in next Sunday for Sunday's Latest...edition #3!! And stay tuned all this week for more latest finds!!