Welcome to the 6th edition of Sunday's Latest, my version of the "Sunday Paper" that skips to the good stuff!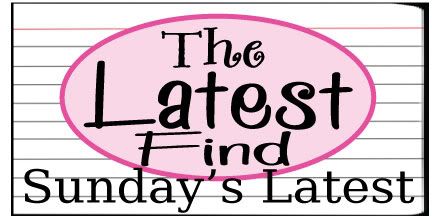 First up, the sale ads!! Here are the links a few of our favorite stores weekly sale ads. Just click on the link, type in your zip code, choose your local store, and there they are!

Gap
25% off an entire online purchase with the code GAPSUN at checkout! This code is good through Tuesday, 4/3/12.
Starbucks
Receive a free tall beverage in stores with the purchase of certain Tribute coffee products by Starbucks! Ends today, 4/1/12.
Online exclusive - up to 20% off select Starbucks products. 3/22 - 3/28 only.

This week's craft tutorial shows how to make a functional, adorable kitchen towel. Thanks so much to Katie at Pincushion Creations...our craft contributor!
Stay tuned each week for more of her awesome crafting/sewing tutorials, and be sure to follow her over at her site! She has some amazing new projects coming up!!

"The Cost of Sacrifice" from To Show Them Jesus
"Storm Preparations" by To Show Them Jesus

It IS Sunday, be inspired by the following links!!
CSAHM
Here's a free 8x8 printable! Just click on the pic, it will take you to the download!
Have to miss a Sunday at church? Check out these two websites that offer their church services online, LIVE! I have been to both of these personally, and they're amazing!
Journey Church in Raleigh, NC
Barefoot Church in Myrtle Beach, SC
(find some great online sermon archives and podcasts at them as well )
That's all for Edition #6, hope everyone has a great Palm Sunday in preparation for Easter!!
There will be no Sunday's Latest next Sunday due to celebrating Easter and the ressurection, but tune in 2 weeks from today for Sunday's Latest...edition #7!! And stay tuned all this week for more latest finds!!