This is a Sponsored post written by me on behalf of
éclos Skin Care
for
SocialSpark
. All opinions are 100% mine.
I got an amazing opportunity to try out éclos Anti-Aging Skin Care Starter Kit! I was immediately interested to try these products out, because they aren't just your standard skincare products...these products contain Apple Stem Cells that have been extracted from a rare Swiss apple! These stem cells have shown tremendous ability to stimulate skin stem cells, which encourages aging skin to behave like young skin!
éclos Skin Care
The Apple Stem Cell technology combined with plant extracts, vitamins, and antioxidants actually helps to minimize the appearance of fine lines, wrinkles, and tired skin. Having a young son and daughter means that I am usually worn out by the end of the day, and it definitely shows in my skin! That's another reason I was excited to try out éclos Anti-Aging Skin Care Starter Kit.
Similar products used to be available from specialty brands at department stores...but this was accompanied by a high price tag. éclos is the very first brand to bring this active ingredient to mainstream stores. It's now a fraction of the cost....making beautiful and younger skin available to women everywhere, which is fantastic!
I am so grateful for the opportunity to try out éclos Anti-Aging Skin Care Starter Kit, because it was full of products to help my skin. Here's what's included in the starter kit:
• Facial Cleanser Skin Prep
• Cellular Activator Face Serum
• Moisture Therapy Regenerative Cream
• Restorative Eye Cream
• Instant Radiance Facial Scrub
• Skin Renewal Clay Mask
• éclos Terry Cloth Head Band
Yep, all of that!! The kit is full of goodies to help your skin. Each one has it's own purpose, some are targeted for the entire face, and some are specific to eye area.
The Facial Cleanser Skin Prep purifies skin deep down, while removing makeup and daily debris. It prepares the skin for subsequent treatments and allows them to work at their maximum potential. It worked really well for removing makeup. Lately I have not been using waterproof mascara, and the skin prep easily removed all makeup and mascara.
The Cellular Activator Face Serum awakens dormant skin cells, increases their longetivityand enhances their ability to function like young cells. I like that it dried quickly and seemed to brighten my skin with each use.
The Moisture Therapy Regenerative Cream contains high potency Plant Stem Cells and is formulated to protect your own skin stem cells.The result promotes the self -renewal capacity of the skin, and helps to slow signs of aging. It helps to tighten sagging skin and postpones wrinkling. It goes on like a lotion, but is very light and easy to rub in.
The Restorative Eye Cream reduces the appearance of fine lines and wrinkles around the eyes. The eyes are the first area to show signs of aging.
The Instant Radiance Facial Scrub has microdermabrasion properties that help to polish away dry, flaky skin while smoothing fine lines and wrinkles to improve the overall texture of the skin. This is by far the best facial scrub that I have ever used. I love the slightly rough feeling it has on the skin that helps it to do it's job to actually scrub away dry skin which is something I have searched for in all facial scrubs that I have tried. The best part was the warming sensation on skin impact. The scrub actually does warm up as it is applied to skin. I love it.
The skin renewal clay mask cleanses, absorbes impurities, and un-clogs pores while helping to restore skin to its youthful prime. I liked how it wasn't too heavy and was just the right amount of thickness. It also came off fairly easily when rinsing it off with water, which I liked.
The kit even containted a Terrycloth Head Band which kept my hair out of my face while I used the products.
I was so extremely pleased while using the products as they made a noticeable difference even after the first week of use. I have absolutely no complaints about any of the products as I loved different things about each of them, such as the warming sensation and scrubby feeling of the Facial Scrub, and how quickly the Face Serum dried on my face and was not oily. I can honestly say I noticed brighter, smoother skin even after the very first initial use of the products on the first day of use. This is definitely a skin care system that I will recommend to even my family and friends because I love how it is created from natural things such as plant-based extracts, and how it features Apple Stem Cells from actual Swiss apples. I'm a firm believer in the benefits that can be experienced from these natural attributes.
Overall, I love the products! My skin is noticeably brighter and smoother, while not being oily. The products even seemed to help areas of my skin that tend to redden when dry. This is definitely a skin care system I want to stick with, after using it and noticing the improvement.
Ready for the before and after?
Excuse the lack of makeup and wet hair from after the shower in the before pic... But you will notice the areas of redness I'm talking about! Also excuse the dark circles under the eyes, it comes from having two little ones!!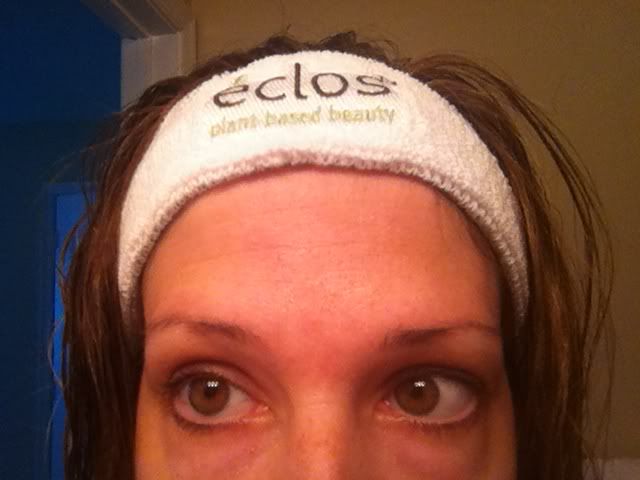 And the after...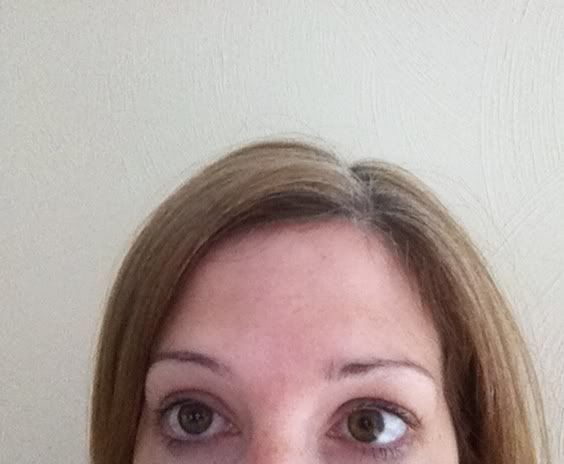 It even helped the redness, along with now being brighter and smoother! I also find that I don't need quite as much makeup coverage. My skin looks naturally better so I don't have to conceal it as much!
And guess what?? I also have another kit to offer one of my lucky readers!! You too can experience the awesome products and benefits from them! It even comes with a cute pink bag with a zipper.
To enter to win your own awesome kit, it's simple! Just leave a comment on this blog post stating which product you're more excited to try! Easy!
Giveaway is open to U.S. residents 18 years og age and older. Giveaway ends Sunday, June 3rd 2012 at 7am. Winner will be chosen by Random.org and notified by email within 48 hours of giveaway ending. Please make sure to include your email in your comment if it is not accessible through your blogger profile.